Free e-course, rebranding, seminars & mo
A lot has been going on with me and this site, so it's time for another general update post. First and most important for those wondering why they just got redirected from the Bayesian Bodybuilding website…
BayesianBodybuilding.com is dead.
Long live MennoHenselmans.com.
Yes, Bayesian Bodybuilding is really dead. The brand was my baby, but we've outgrown its scope. I came up with the name largely out of a sense of frustration with the fitness industry. It wasn't data-driven enough and it pussyfooted around calling 'fitness' what it really is: bodybuilding. People want to build muscle and lose fat. To me, that's bodybuilding.
However, the reality is that only a small minority of my clients, students and audience in general are actually competitive bodybuilders. In fact, many even have a very negative association with the term bodybuilding.
If you combine the stigma of bodybuilding with the response I typically got for the word Bayesian –
'Uhm… what? Bajeesian? Bae… yusian? Is that in Europe?' –
it didn't make for a very good name.
After chronic brainstorming, I had a eureka moment: why do I even need a brand name? You already know me and anything written by my team is already done under their own names.
So what does this change for you?
Nothing. 'New' name, same contents. My mission is still to spread scientific knowledge about fitness to help you get the most out of your physique and life in general.
All traffic from there should automatically redirect to this site, so you don't need to update your bookmarks. However, social media don't redirect unfortunately. My Facebook page is now Facebook.com/MennoHenselmans and my Instagram is now Instagram.com/Menno.Henselmans. My Twitter is still Twitter.com/MennoHenselmans. I'm most active on Facebook because I can add multiple links to studies in a post and the readability is best.
Let me know if any links went broken though or you can't find certain contents.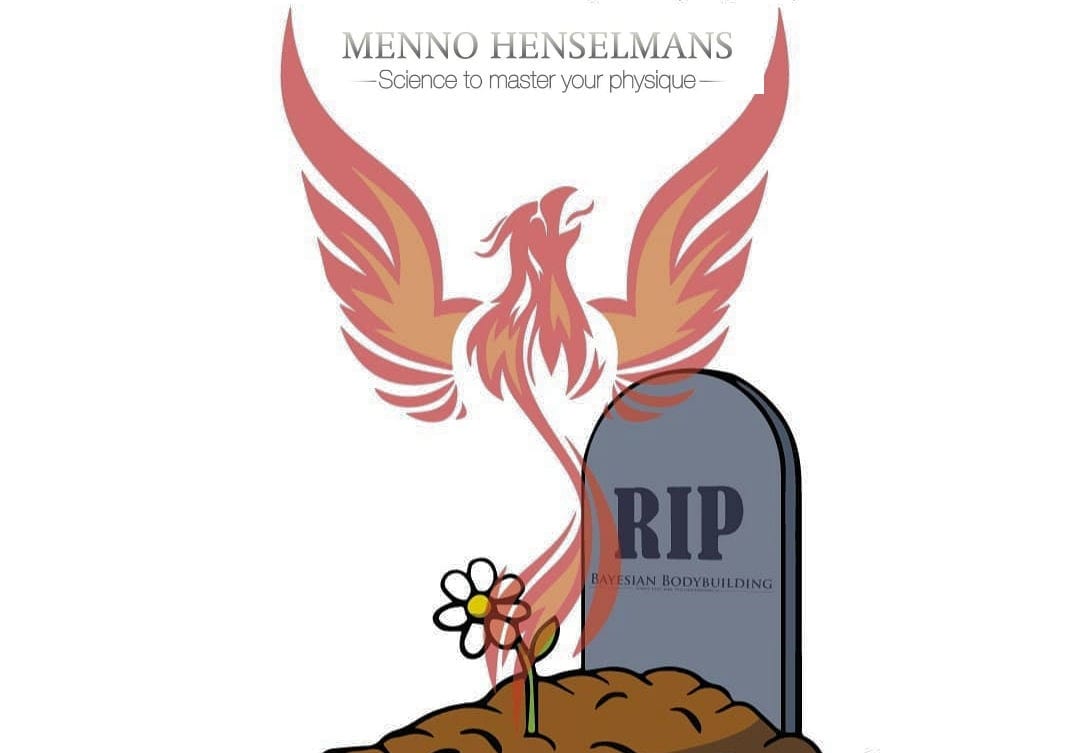 New scientific publications
My research team has 2 new scientific studies coming up relatively soon (submitting the papers as we speak). I can't release many details until they're published, but these are the topics. The findings should be very interesting for powerlifters and strength trainees who struggle with dieting adherence, which is to say: everyone.
Anthropometrical determinants of sumo vs. conventional deadlift performance: what body structure is best for which deadlift style?
A randomized cross-over trial of the satiating effect of high protein diets in strength-trained lifters in collaboration with Anglia Ruskin and Cambridge University. This will be a formal follow-up to my article about why protein isn't more satiating than carbs or fats.
We're also working on several more studies, including one big one together with Andy Galpin's team, that will hopefully be done later in 2019. I'd like to thank those who donated to help fund these studies again, as I pay the rest out of my own pocket and the expenses so far have already run over $50k.
New free 14 lesson e-course
I've written a free email course which summarizes much of my past work along with some new information. If you've only been following me for a year or less or you want a refresher of my contents from back in the day I highly recommend signing up. The idea was to make it a mini-course, but reflecting on my past work turned into 14 lessons of fully scientifically referenced information with added infographics, so I hope you'll enjoy it.
Get our free course on how to build muscle, lose fat and get stronger.
By filling in your details you consent with our privacy policy and the way we handle your personal data.
Make sure you check it doesn't end up in your spam/promotions folder.
My favorite lifting buddy is back
About 2 years after my last trip to Chiang Mai, I'm back in the same gym now and I'm happy to see my favorite lifting buddy is still there. She's been on a serious bulk. In fact, she's increased her bodyweight by 300%! Check out her gains.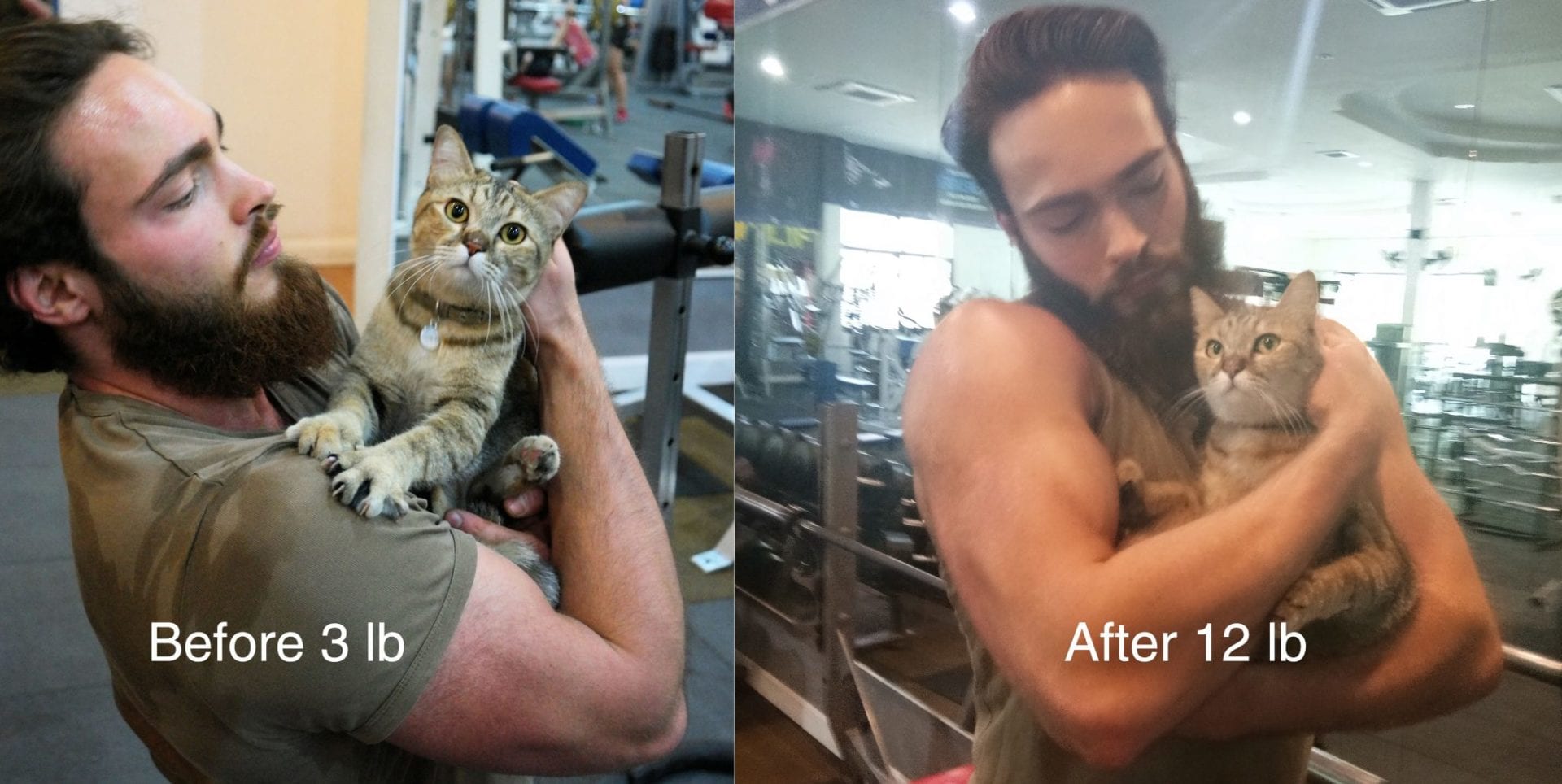 Facebook reviews
I've enabled public, uncensored reviews on Facebook. If you have a minute, I'd greatly appreciate your honest opinion about my work and services.
Presale 1 March 2019 PT Course
Registrations will soon open for my online PT Certification Course starting on 1 March 2019. You can reserve a spot here and then if you pay lump sum before the end of the year, you get a ~$200 discount. If you reserve your spot now, you will receive an email this month with the opportunity to register for the discounted price.
The Spanish, French and Dutch courses will start a bit later.
Vegan coaching
My research team member Anastasia 'Nasti' Zinchenko is available for vegan coaching now. She lives a 100% vegan lifestyle herself, is an international level powerlifter, has a PhD from Cambridge and she has competed in multiple physique competitions. She is the best vegan coach in the fitness industry that I know by a wide margin. I still coach vegans myself, but Nasti is more affordable, so I highly recommend checking out her coaching if you're looking for vegan coaching.
2019 Seminars
I'll be speaking at the following events in 2019. Details for most events are still being determined, but at least these 3 are definitively happening according to the organizers.
16-17 February: Singapore 2-day advanced training & nutrition seminar [details to be determined]
31 March: Supersize Me in Sofia Seminar [details to be determined]
28-30 June: The Ultimate Evidence Based Conference in Melbourne, Australia
---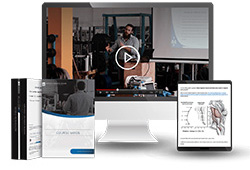 Want more content like this?
Then get our free mini-course on muscle building, fat loss and strength.
By filling in your details you consent with our privacy policy and the way we handle your personal data.
---
About the author